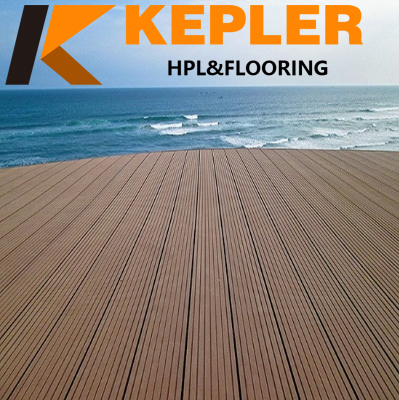 BASIC INFO
Products Name
:WPC DECKING, WPC FLOOR, WOOD PLASTIC COMPOSITE,WOOD PLASTIC COMPOSITE DECKING
Brand
: Kepler
Size:150*25mm, 140*25mm, 135*27mm, 146*22mm...
Length:
Sizes can be according to the client requirement, but not more than 5.8m.

Color
:
10 colors

Surface
:
Smooth,
wood grain, grooving, brushed

Component
:
35% HDPE+ 55%poplar +10%chemical additives

Material Introduction
:WPC ( Wood Plastic Composites), a new kind of composite material.Plastic and wood powder are mixed according to above proportion after hot extrusion molding plate.

Applications
:Garden, Lawn, Balcony, Corridor, Garage, Pool & SPA Surrounds, Boardwalk, Playground.

Certificate
:
ISO.9001/ISO.14001/CE
Appearance:
Looks and feels like natural wood.

Advantage
:Waterproof,mildew resistant,Moisture resistant,no rotting,low flame spread ; Available in different colors and wood grain design ;Green ecological, Innovative technology, Lifestyle

Particularity
:
High degree of UV and color stability.
Cost:Easy to install and clean ,low labor cost.
Maintenance:
Requires no painting, no glue, low maintenance.
Recycling:
100% recycle, environmental friendly, saving forest resources.

Environmental friendly
:
Barefoot friendly, anti-slip, no cracking.

Low/High Temperature resistance
:
Weather resistant, suitable from -40 to 60.